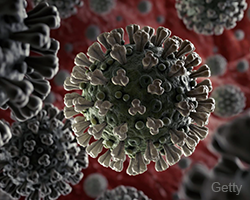 In December 2019, a new coronavirus affecting humans was identified. This virus was named Severe Acute Respiratory Syndrome Coronavirus 2 (SARS-CoV-2). The disease this virus causes is called Coronavirus Disease 2019 or COVID-19.
What are the symptoms of COVID-19
There is a 14-day incubation period from when a person is infected with SARS-CoV-2 to when the person develops symptoms. This means it can take up to 14 days before symptoms of COVID-19 appear. The most common symptoms of COVID-19 are:
Fever or a high temperature i.e. 38 degrees Celsius or above
Cough – this can be any kind of cough, not just dry
Shortness of breath or difficulty in breathing
Loss or change to your sense of smell or taste – whereby you cannot smell or taste
anything or things smell or taste different to normal
If you have any common symptoms of coronavirus (COVID-19), you should self-isolate and phone your GP straight away to get a coronavirus test.
How is COVID-19 transmitted?
COVID-19 is mainly spread via respiratory droplets including aerosols from an infected person who sneezes, coughs, speaks, sings or breathes in close proximity to other people. Droplets including aerosols can be inhaled or deposited in the nose and mouth or on the eyes.
More rarely, infection may be due to contact with surfaces contaminated with droplets.
The virus can survive on different surfaces for a few hours (copper, cardboard) up to a number of days (plastic and stainless steel). However, the amount of viable virus declines over time and it is rarely present on surfaces in sufficient quantities to cause infection. Infection may occur when a person touches their nose, mouth or eyes with their hands either contaminated by fluids containing the virus or indirectly by having touched surfaces contaminated with the virus.
How to reduce the risk of transmission of Covid-19?
To reduce the risk of transmission of COVID-19:
Wash your hands regularly with soap and water and. If soap and water are not available, use hand gels (alcohol hand rub) with at least 60% alcohol content. If you have used hand gels 5 times in a row, it is advised that you wash your hands
Avoid touching your face with your hands
Maintain a minimum of 2-meters distance between people
Wear a face mask
Do NOT cough or sneeze into your hand. Instead, use a tissue to cover the mouth and nose, dispose of the tissue in a bin immediately. If a tissue is not available, cough or sneeze into your bent elbow
Are there training courses available on COVID-19?
For all Order of Malta Training courses please clink on the Course Tab or the following LINK
What additional resources are available
COVID-19 is a new disease, please consult the HSE website regularly to remain up to date with the latest information and guidance around COVID-19.
The following websites provide additional information on COVID-19